Secretary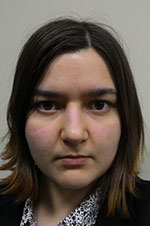 Address
St.Petersburg
199034
Universitetskaya emb., Build. 11, Office 4a
Contact
This email address is being protected from spambots. You need JavaScript enabled to view it.
Languages:
Russian (native),
English (fluent),
Chinese (fluent)
Education:
2011-2013: Master Programme in Politics and International Relations of Asian and African Countries, Faculty of Asian and African Studies, SPbSU.   
2007-2011: Undergraduate Programme in Regional Studies (China), Bachelor Diploma, Novosibirsk State Technical University.
Professional positions:
Since 2013: Senior Department Assistant, Educational Programmes Support Service, SPbSU.