Doctor of Sciences (Philology), Professor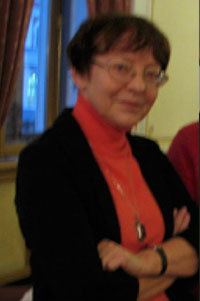 Address
St.Petersburg
199034
Universitetskaya emb., Build. 11
Academic degree:
Doctor of Sciences (Philology) (the theme "Pahlavi Zoroastrian Literature. Typological Analysis"), 1998.
Education:
1968-1974. Leningrad State University, Faculty of Oriental Studies, Department of Iranian Philology.
1974-1977. Leningrad Branch of the Institute of Oriental Studies, USSR Academy of Sciences, Graduate School, Candidate of Sciences (History) (supervisor Doctor of Historical Sciences A.G. Perikhanian).
September 2014. Internship in Berlin-Brandenburg Academy of Science and Humanities, Turfan Studies (supervisor Prof. D. Durkin-Meisterernst).
Sphere of scientific interests:
Iranian historical linguistics
Middle Persian (Pahlavi) language and literature
Middle Persian (Manichaean), Parthian, Sogdian
Manichaean literature
Working languages:
Russian
English
German
French
Persian
Publications: more than 50, including monographs 7, tutorials 3
Courses taught:
Theoretical and historical grammar of Persian
Middle Persian
Old Persian