Senior lecturer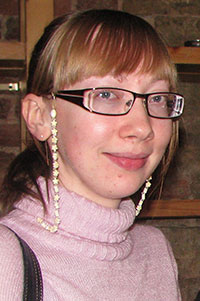 Address
St.Petersburg
199034
Universitetskaya emb., Build. 11, Office 20
Contact
This email address is being protected from spambots. You need JavaScript enabled to view it.
Education:
2011-2015: PhD Dissertation: «Role of Russian sinology in sociocultural relations between Russia and China at the second half of 19th century».
2008-2010: Additional education programme, St.Petersburg State University. Diploma: «Family in Chinese culture: history and modernity».
2002-2008: Specialist in History, Historical faculty, St. Petersburg State University. Degree Diploma: "Roman Britain (I-V centuries A.D.)".
Languages:
Russian (native),
English (fluent),
Spanish (fluent).
Research interests:
Russia-Chinese relations,
sinology,
ancient history,
Early Christianity
Teaching:
Courses taught:
Concepts of modern historical research
History of Western countries
History of Early Christianity
Culture and ethnography of China
Publications:
Petukhova N. V. "Rules of Overland Commerce" between Russia and China of 1881: Problems of Functioning and Further Discussion on Revision. Dagestan State Pedagogical University. Journal. Social and Humanitarian Sciences. 2017. Vol. 11. No. 1. Pp. 20-24. (In Russian)
Petukhova N. V. Evolution of Chinese studies in Russia in the middle – second half of the 19th century. Vestnik of Saint-Petersburg State University, Series 13.4, 2014.
Petukhova N. V. Diplomatic mission of D. D. Pokotilov and D. M. Pozdneev in China (1895-1901). Far Eastern Affairs. 4, 2016.