From SPbU with love to China, or Chinese Bridge
St Petersburg University has completed a selection procedure of the 16th "Chinese Bridge" Chinese Proficiency Competition for Foreign College Students. The students from seven universities in St Petersburg took part in the competition, while SPbU student Polina Butsyk won first place.
"One of the main aims of the competition is to improve teaching Chinese in St Petersburg and Russia. Russia-China relations in the humanitarian sphere are on the rise, so we need experts in both languages", — said China's Consul on Education and member of the Sun Lailin.
The jury comprised the Art Director of Guangzhou Dramatic Arts Centre, SPbU Prof Aleksandr Storozhuk, SPbU Associate Prof Galina Gultiaeva, and Director of Research and Education Centre of China and Countries of the Pacific Rim Tatiana Urzhumtseva. The event was visited by the honoured guests: a solo singer of the Beijing's opera and People's Artist of China Guan Dongtian, Deputy Director of Guangzhou Dramatic Arts Centre Zhong Qin, an actor of Guangzhou Dramatic Arts Centre Sun Bo, a journalist of the information agency "Xinhua" Lu Jinbo and Senior Deputy Dean of the Faculty of Oriental Studies Aleksei Rodionov.
The competition tasks were a monologue in Chinese "Dreams Enlighten the Future", a performance, and some tasks on the Chinese culture, history and language. The experts said that all the participants were highly talented: they demonstrated proficiency in Chinese, they are broad-mindedness, and have an inventive approach. SPbU's students are exceptionally proficient in Chinese, said Mr Sun.
This year, the selection procedure had 16 competitors from SPbU, Higher School of Economics, Herzen University, SPbGEU, SPbGPU, and SPbGIK. "We got a lot of applications. It can be explained by an increasing interest in Chinese language and expanding competition", — said Director of SPbU's Confucius Institute Iulia Mylnikova. Next year, the competition is going to gain more popularity, as the University is opening educational programmes in Law, Economics, and Journalism with a focus on China, she said.
The first place in the selection procedure was awarded to SPbU student Polina Butsyk. "I was happy to be on such a big stage and sing about Tibet, as I just adore culture of this region", — she said. She started to study Tibet when she was a first-year student, then she became a master student and now planning to pursue her education at the post-graduate level.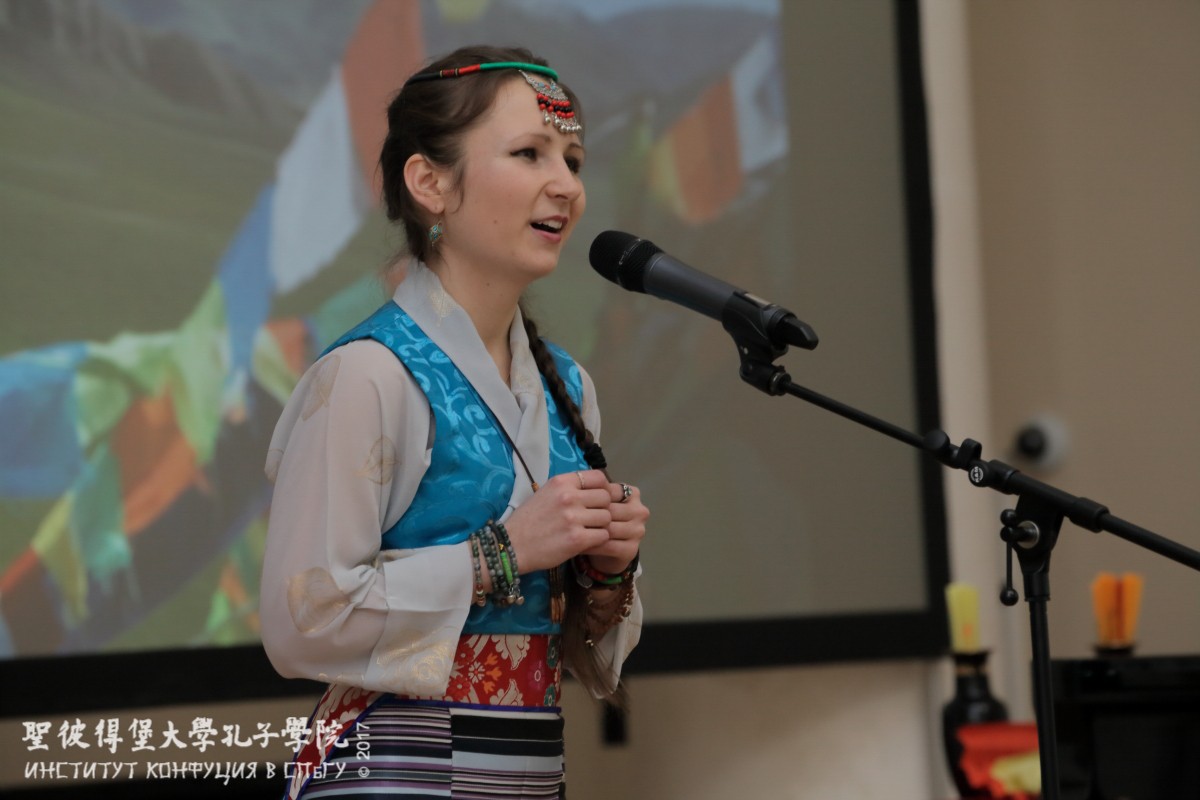 The prizes were awarded to Diana Maksudova, Herzen Uiniversity, and Arina Kopneva, Higher School of Economics. The Certificate for Best Performance was awarded to Arina Tokareva, SPbU, and the best public speaker was Anastasiia Avdeeva, Confucius Institute.
The winners and prize-holders will take part in the Russian round of the "Chinese Bridge" that is to be held in Kazan. The winners of the Russian round will go to China to represent Russia in the final round.
Category: News
Hits: 3211